Backstitch
Running Stitch
Stem stitch
Chain stitch
Satin Stitch
Split Stitch
French knot
Feather stitch
Woven Wheel Stitch
Couching stitch
Blanket Stitch
Bullion knot
Lazy Daisy Stitch
Whip Stitch
Detached chain stitch
Embroidery stitch is a handicraft, which is the art or designed to enhance the fabric's beauty by sewing with the needle, thread. Often, Pearls, quills, sequins, and beads are included with stitching to create a beautiful design. This blog is for that people those how are not aware about what are the names of embroidery stitches.
Now, are you wondering, how many types of embroidery stitches are there?Don't worry; in this article, we will discuss the 15 best types of stitches. And let's see all the functions in detail and become an expert handicraftsman.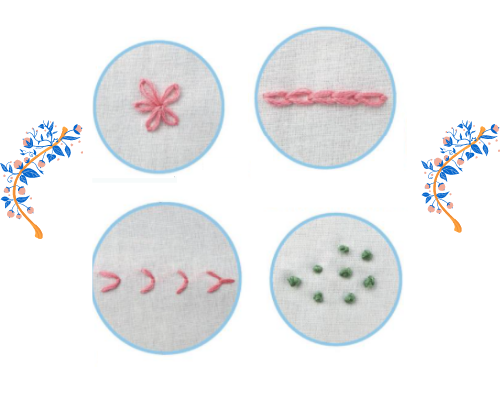 If, you are interested in learning about embroidery stitches. Read in this article, "What Are The Names Of Embroidery Stitches", It can answer all your questions on this topic.
What Are The Names Of Embroidery Stitches
To know the types of embroidery stitches first. It would help if you understood what embroidery means. Embroidery is referring to hand works with needles and thread in the various short fusions of stitches. Embroidery work does some excellent finishing to our clothes or fabric. Those stitches not only give a good look but also enhanced our entire fabric looks.
Though nowadays, embroidery works finely done by embroidery machines. But nothing can exchange by excellent embroidery hand cloth. In the history of embroidery works, there has a lot of different types of stitches. But we talk about the 15 most used or most popular stitches.
In them, we can divide into two sections. Some are fundamental standard stitches, and others are used to give an artistic look to us. These are all basic stitches, such as fly stitch, back stitch, Running stitch, stem stitch, chain stitch, satin stitch, split stitch, etc. On the other hand, French knot, feather, woven wheel, couching, blanket, bullion all these stitches are used for decorating your fabric.
Besides, there has some more detailing stitches like ham work, overlocks, even alphabet stitches also. So, you can learn any of them quickly and can apply them anywhere you want to decor.
15 stitches every embroiderer should know
So, here we are now going to know more details about every single stitch. You can quickly learn those and stitch on your clothes. Remind that practice make you more perfect on every stitch form. Here we talk about almost 15 stitches that we regularly use in embroidery works.
It's the most simple and basic stitch in the hand stitching stage. Anyone can make it perfect on the first time attempt. Even this is the first step that will help other stitches to learn easily. It's mainly used to divine border line easily. If you have professional experience, you can make a unique design by mixing up different stitches together.
This type of stitch is quite the same as the back one. But slightly different is that it contains gaps between every single needle. You can adjust any length or shape through this stitch that makes a perfect dashed line to your fabric. His type of stitches is quite the same as the back one.
But slightly different is that it contains gaps between every single needle. You can adjust any length or shape through this stitch that makes a perfect dashed line to your fabric.
You can include this one as a basic stitch. It's given a natural smooth outline to your clothes. It can shape in any form that you prefer.
In embroidery, if you like to do something bold or give a continuous look to your fabric, you must go for chain stitch. Its stitches, one by one, really provide cute chain looks to your design.
It works when you need to fill your embroideries. Satin stitch has a quite mismatch to straight stitch also. It gives an awe-inspiring look to your embroidery.
It's so much fun to work with split stitch. You will stitch in reverse, but the outcome will turn out in front looking stitch. It can be used in outlines or bottom lines too.
Some find this one hard or challenging. But through this, you can make excellent flower knots to your embroidery. It's not a basic stitch, and it requires making designs in fabrics.
It's used in borderline or make some frame embroidery works. Its looks are very different than other stitches. This work looks like feather embroidery.
In-hand embroidery works woven wheel is the most unique and super simple stitch. It's a compact version of the floral hoop. Again, it's not a basic stitch at all. But it can give a better use to your embroidery.
This kind of stitch is not for beginners. It isn't easy to perform. But it's a very antique piece of embroidery stitch. It gives an elegant look to your hand works.
It's another border stitch. In blanket stitch, the starting point looks quite tricky. But when you can start it over, not goanna stop your hands to stitch it. It has some tricks to turn the needle in this stitch
It says that how tiny the stitch would be. It looks more beautiful. Bullion stitches are one of them. First, when you start it off, it will make large sizes. But practice makes you perfect in this case. These stitches are also used in superb floral embroidery.
through this, you can make easy beautiful flowers. These are so simple to learn. Especially for beginners who are passionate about learning embroidery so quickly they can like this stitch.
these kinds of stitches are also used as basic stitches. It's effortless to learn for beginners. It quite looks similar to the ladder stitch. But that super easy and fun to do embroidery work with it.
this is the funniest stitch to do. Its form with several chain stitches. It's come to a floral output that makes an easy hand look to your embroidery works.
No matter which stage of embroidery skill you belong to. But for everyone who wants to know basic stitches, these are perfect for them to learn. Also, in our regular life, all these stitches work so well. So, everybody should know some basic stitching techniques for sure.
What is the importance of Embroidery Stitch?
The person who works in the embroidery world can explain the better ways of its importance. If you are a fashion designer or work with a lot of fabric design, you must know all this embroidery work. You should know what is embroidery stitch?
Besides, in your regular life, stitches are quite helpful to your emergencies. Sometimes we need to fit our dress or hook those broken buttons from anywhere. These tiny stitches will permanently save us from the crisis. You can also make your embroidery Prices if you know to stitch before. Now There are available videos or tools to learn these stitches.
Frequently Asked Question:
1. What is the meaning of embroidery stitches?
The embroidery stitch means handicrafts. Embroidery embroiders designs on fabrics to enhance beauty with needles, yarns, and various other things. Shirts, pants, dresses, caps, hats, bed sheets, and many other things are embroidered. There are many types of stitches, such as satin stitch, chain stitch, cross-stitch, etc.
2. How do you do embroidery stitches?
When it comes to sewing embroidery, you have to get an idea about it and learn by hand. For this, you can watch YouTube videos. You have to learn to draw designs. You have to collect the cloth and necessary equipment (needle, yarn, frame, cutter, etc.) for embroidery. Then you start embroidery stitches.
3. What are the types of embroidery stitches?
At present, various types of stitches are being made to enhance beauty. Stitching is typed based on the design for specific purposes. For example, if you want to do something with the "O" shape design, then fill-sewing would be perfect.
One of the stitching types is running stitch, satin stitch, back stitch, split stitch, French knots, etc.
4. What is the importance of embroidery stitches?
The importance of embroidery is to know different stitches. For fashionable people have to do it according to what they like. Also, learning to embroider stitches helps niche, target market identification as well as meet their interests.
Conclusion:
In the present fashionable era, embroidery work can be seen on various types of clothes. Shirts, girls' dresses, bedsheets, caps, hats, denim, stockings, etc., to embroidery stitch for beautiful designs. So that you have to know "What Are The Names Of Embroidery Stitches".
What is embroidery stitch? Embroidery is a hand stitch designed on fabrics with needles, yarn, and a variety of materials. However, keeping pace with the times, machines and different technical embroidery work has come out.
Reference link: