Our topic is What Are the Best Sewing Embroidery Combo Machine. So that we have to know about the feature and cost of the combo machine which consists of both sewing and embroidery facilities.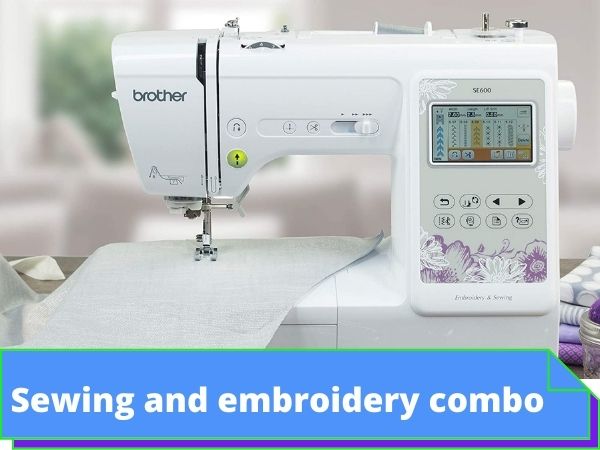 Sewing and embroidery are disciplines that can be traced back to historical times when both processes were done by hand. Since then, embroidery and sewing have evolved to a stage where they are done by specialized machines with a host of built-in features. Compared to long ago when people used to stick either sewing or embroidery only, today many sewers are also embroidery enthusiasts.
This element has also been factored in by machine manufacturers who have come up with machines that have both sewing and embroidery functions. The biggest question many beginner sewers is – should you choose embroidery and sewing machine combo?
Answering this question is dependent on a number of factors best 4 of which are discussed below.
The Plans You have for the Machine
Before buying an embroidery or sewing machine, you must be clear on what you want to use it for. This is because buying an embroidery and sewing machine combo may be a little bit expensive if all you want is just the sewing or embroidery function but not both. However, if you are actively engaged in both disciplines or you have future plans of growing your skills into one or the other then the question of whether you should buy an embroidery and sewing machine combo is valid.
The Cost Effectiveness
When you look at the cost of buying embroidery and sewing machines separately versus a single unit that combines both, you will come up with a logical conclusion whether you should go for combination or separate units. To save on manufacturing time and cost, most manufacturers and brands come up with combinations which house both embroidery and sewing functions into one machine. As a matter of fact, this is the route sewing machine manufacturing is taking. It makes more sense to spend 75%or thereabouts of what you could have spent had you bought embroidery and sewing machines separately.
The Workstation Space
Whether you are working from home or from a rented workstation away from home, the size of the space available is one of the factors you should consider when buying a machine. This is because having two separate machines in a squeezed room may not be as convenient as having an embroidery and sewing machine combo in the same setting. The degree of comfort when sewing or embroidering will affect the end result of your project.
The Machine Features
The built-in features of your sewing or embroidery machine are the main considerations to help you decide whether a combo machine or buying separate machines is appropriate. This is because machines with advanced features tend to come in combos more than in separate machines. The following are some of the embroidery and sewing features you should consider when looking for a machine.
The Number of Built-In Stitches
When looking for a sewing machine, you should ensure that it has all the utility stitches as well as a number of decorative stitches. If you are looking for basic sewing then decorative stitches may not be very crucial. Another thing is to have a one-step buttonhole to help you in sewing buttons of different sizes. One-step buttonhole is more preferred compared to four-step buttonholes because the latter are a bit primitive and can be a huge handicap for you as a beginner. One-step buttonhole allows you to direct the machine on the size and shape of the buttonhole you want.
Automated Needle Threading
Most embroidery and sewing machine combo come with automated needle threading which are working perfectly well. Separate embroidery and sewing units may have automated needle threading but in most cases it may not work as expected hence many of them go for manual threading which is tedious. Automated needle threading saves you time and lets you concentrate on the main project instead of the threading function.
Top Drop–In Bobbin System
As opposed to machines with side loading bobbins which are such a huge inconvenience particularly when changing the bobbins, top drop-in bobbins allow you to just drop the bobbin and let the thread start rolling. If the machine has a transparent bobbin cover which is the case in a typical embroidery and sewing machine combo, you can be able to view the thread supply.
The Weight of the Machine
When you are taking sewing machine classes or travelling a considerable distance from home to your workstation, having a lightweight machine can be very manageable for you. Most separate embroidery and sewing machines were done with heavy materials and this can prove a challenge. However, the combinations are relatively modern in construction and as such they make use of materials such as light plastic which are strong and yet light in weight. As a rule of thumb, you should look for a machine that weighs less than 4.5 kilograms.
The Work Space
The size of the work space is an important factor when choosing embroidery and sewing machines because a smaller work space can give you inconveniences when sewing fabrics bigger than baby blankets. An ideal machine should have ample width and height so that you don't have to crowd your project with unmanageable fabric sizes while trying to sew or embroider. A larger work space makes it easier for you to clearly see what you are doing and try things which take a bit of elbow room such as meandering stitching. A large work space is something you will immediately appreciate and enjoy because it makes your machine bigger, gives you a substantial footprint and less vibration while working.
Automated End of Stitch Features
There are things that your machine should do for you and some of these include automated end of stitch functions. For instance, you should be able to set your machine in such a manner that when it reaches the end of your seam, it automatically raises the needle, the presser foot and cuts and ties off your thread. Thereafter, when you push the start button so as to begin the next stitch, it automatically lowers the needle and the presser foot and starts sewing.
These auto features may be hard to find on ordinary and separate sewing and embroidery machines but common with embroidery and sewing machine combo. Having automated end-of-stitch features can help you a great deal in improving the speed of your work enabling you to stay in the flow of sewing instead of breaking every now and then as you hunt for your thread snips.
Lighting
Many buyers of embroidery and sewing machines don't consider lighting as an important feature because after all, the places they use the machine are well lit and don't necessarily require additional lighting of the work area.
However, nothing can be further from the truth because extra lighting does no harm and if anything it makes a huge difference to your sewing experience. If your eyes do not have the ability to see clearly in dim light or you want to do your sewing and embroidery at night when the main lights are off, having a well-lit working space can help you improve the quality of your output and work for longer hours without straining.
Stable Hoops
Most embroidery and sewing machine combo have big embroidery hoops. Depending on the kinds and magnitudes of sewing and embroidery projects you want to do, an extra-large hoop is certainly indispensable. When working on a large fabric that is minimally supported, it will tend to flex up and down as the needle penetrates leading to an embroidery pattern that doesn't come out well.
In order to mitigate such an occurrence, you need to shop for such a machine that has hoops that can tightly pull your fabric and secure it during embroidery. Many separate embroidery machines have the traditional rectangular hoop system that only holds the 4 corners but not the sides of your fabric which may still slip.
Special Layered Fabric Feeding System
When working on regular seams, a standard feeding system that consists of feed dogs and a presser foot can do a wonderful job. However, as you get into thick fabric sandwiches or when dealing with shifting layers of fabric, your machine will certainly need extra help. This is precisely where an embroidery and sewing machine combo comes into play.
Most of these machines have a walking foot system that uses a special presser foot that operates in synchrony with the feed dogs. While the feed dogs are pulling from the bottom, the presser foot is grabbing and pulling from the top making all the fabric layers move past the needle at the same time without bunching or shifting.
Other benefits you will enjoy from the embroidery and sewing machine combo include the wealth of accessories they come with. Some of these accessories such as an extension table, extra presser feet, needles, floss, extra bobbins, and USB for embroidery designs may be hard to find when considering separate machines. If you can afford, buying an embroidery and sewing machine combo with an LCD/ led screen can help you in following through the patterns, selecting and editing stitches as well as viewing tutorials highlighting the various processes within the machine.
Conclusion
If you buy two machines instead of a combo machine, that will cost you more. And it needs extra space. As a result of a discussion about "What Are the Best Sewing Embroidery Combo Machine" you can easily take the decision.