Your embroidery patterns are great for more than just a pretty design; they're also a great way to reduce the time it takes to complete your projects. You can speed up production by using an embroidery design and then transferring it from your computer to the machine. Technology has made this process faster and easier than ever by giving you tools that simplify the process of transferring, storing, and loading files on your machine. Here, we always keep an eye out for new and helpful techniques to make your threading projects easier!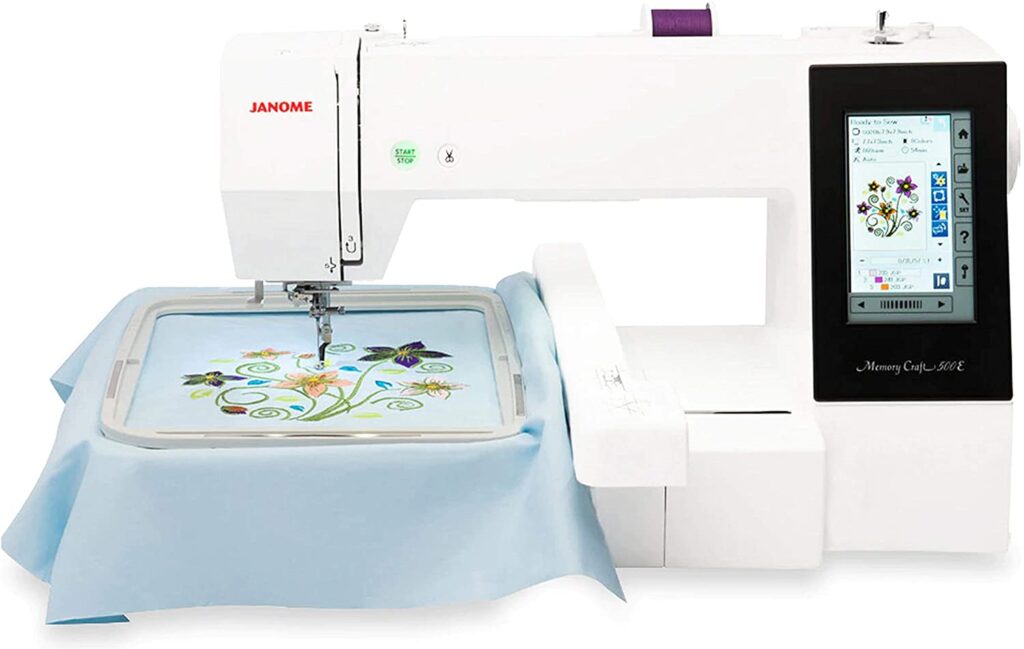 We love bringing you the latest information about embroidery, from techniques to inspiration. In this guide, we'll discuss how to transfer embroidery designs from your computer to the machine and how you can find out more about threading. Before that, you have to know how to use a computerized embroidery machine?
How it works:
When you stitch with an embroidery machine, the software that created the design for you will have information about which color thread should be loaded in each part of the design. The software will also know which thread to pull into each section of your machine. When you transfer designs from your computer to a machine, you are essentially copying the software's information about your pattern and then loading it into your embroidery machine.
Getting Started:
If you're anything like me, the best way to get started on a new project is to read through all of the instructions that come with your patterns. Most come with a variety of embroidery formats for you to use, which means you have multiple ways of loading them onto your computer. When I read through my pattern's instructions, I always make sure my computer is set up for the most efficient file transfer method.
Most of my designs come on CDs, which is convenient because I don't have to worry about misplacing the pattern instructions (I can just save them on my computer). If you're like me and prefer working from a CD, there are a few things you'll need to do before you start your computer. First, check to see if your computer has an SD card slot. Many of the newer models do, but I've seen some that don't, so it never hurts to double-check. If your computer has one, make sure it's empty and isn't in the process of being used by another device. If you're using a desktop computer and don't have an SD card slot, you can still use your CD/DVD drive.
Next, make sure to insert the CD into the proper drive and make a note of where it is located on your computer. The number will change depending on how many devices are connected to your computer, but most CD drives are located in this location: C:\DRIVE LETTER\.
If you have a laptop and don't know the drive letter, it's easy enough to find. On your keyboard, press the Windows Start button. Type "computer" into the search bar and click on "Control Panel". Double click on Computer and look for the drive letter under device manager.
Alright! Now we're ready to start up your computer. If you notice the CD drive is not where you expected it to be, go ahead and plug in the correct location before proceeding.
Let's Start:
Alright, so you've done a little bit of prep work beforehand and now your computer is ready for you to pop in your CD. When the screen comes up, if you're using a laptop, make sure that your finger isn't on the touchpad (if your cursor moves while you're trying to select something that could cause problems!). If you're using a desktop computer, make sure that you moved the mouse away from the opening tray of the CD drive.
You'll now see a series of options. The first is to open or create a directory for the files being transferred. If you don't have one, just select Yes and click "Next". This will put the folder where you want it. If you do want to create a folder, click on "New Folder" and name it whatever it is that's on your computer.
The next option on this screen is to set up file compression. I prefer zip files because they are smaller and easier to send to other people. On this screen, just select "None" and click "Next". If you want to choose the type of compression, there are a few different options listed here. I always recommend setting it to zip unless you know you're sending an older embroiderer the pattern (if they still use floppy disks).
The last thing you'll need to do is select a place where you'd like to put the folder on your computer and click "OK". Now you're ready to find your designs!
Designs:
After your computer loads the CD, you'll see a list of available designs. This list is usually divided by category, so if you are looking for a particular pattern, you can quickly scroll through the options and find it without having to search through a lot of unnecessary designs. If you have a lot of CDs with designs on them, this makes it much easier to find them. Selecting one will transfer the design onto your computer's screen.
In the example above, I selected a background design from one of my favorite embroidery collections. On this screen, you'll find an Embroidery Panel Viewer (a few different ways to view your design), the Design File List, and a few options to make things easier for you.
If you select the "Design File List" option at the top middle of the screen, you'll be given a few options that make it easier to sort through your designs. You can view your designs by type (star, stripe, circle, etc) or just by number.
There are a few other options to play around with on this screen, but these are some of my favorites. If you scroll to the bottom of the screen, you'll be able to select a couple of different options that will ease your design installation process. The first option is the ability to send your design to the Embroidery Stitches Program. This will allow you to transfer a design from your computer onto an embroidery machine and make it ready for stitching.
The other option is the selection of color. A lot of machines will be able to transfer designs straight onto your machine (if not, they'll give you a file that you can load into the Embroidery Stitches program). If your machine is capable of doing this you can select one of two options. If your machine is set to transfer designs in color (for example, the Brother PE-200i, PE-150, PE-300i, and other Brother machines with the LCD screen), then you'll be able to select "In Color". These files are usually very large (especially if there are lots of colors) but the larger files will show up in color on your machine's screen. If your machine is set to transfer designs in black and white you'll be able to select "In B&W".
Once you've selected a design, it will become smaller and darker. Click on the picture of your design and it will enlarge. If you have a lot of designs on your machine it can be very helpful to enlarge them, so that you're not scrolling through them too quickly.
Now you'll be able to select the size and color of the design on your machine's screen. Click "OK" when finished, and your machine will stitch out your design. After a few minutes, it will be ready for you to take off the embroidery hoop and hang it on something.
Final word:
I hope, you liked this tutorial. I will be adding more tutorials soon and also add new products for the embroidery machine. If you have any questions or suggestions, feel free to contact us.
Reference link:
https://en.wikipedia.org/wiki/Embroidery
You may read another article: