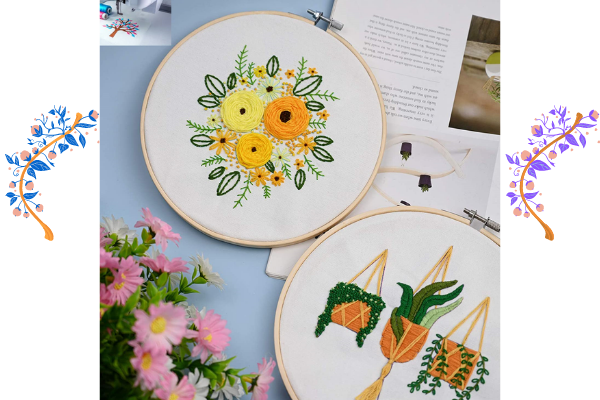 Have you ever tried to do embroidery works without any embroidery machine? Yeah! You have heard the right thing. You can also do embroidery works without technical or multiple machine use.
Now the question is, "How to Embroider Without an Embroidery Machine?" Before answering the question, think for yourself. There was no intention or no electricity; people also used to do such fantastic hand embroidery works. How can they do that?
In the history of embroidery, you will find several fantastic pieces of evidence of embroidery work samples. All those are only hand embroidery and have no machine usage. In this article, you can know all the details about embroidering without any embroidery machine. To gain more, keep reading this article below.
How to embroider without an embroidery machine:
The people are familiar with it from the ancient period. Many people use it as their tradition. The use of embroidery machines started in the 19th century.
So from the beginning, people don't know about the machine. But embroidery has become the expression of their lifestyle. But how!!! Isn't it amazing? It indicates that without an embroidery machine, embroidery isn't impracticable.
In past times people used to do hand embroidery. Besides, we can also use sewing machines for this case. So we can say hand embroidery, and sewing machine embroidery can perform without the embroidery machine. You can learn about below:
How to make embroidery with sewing machine:
One can easily embroider with the general sewing machine. To make you a better sense, all the requirements and processes are described here.
Ingredients :
Design
Water-soluble stabilizer
Permanent marker
Uncut fabric
Thread
Needles
Scissors
Glue stick
Embroidery hoop (optional)
Machine foot etc
Steps of embroidery with sewing machine
Preparing of the machine
Like other sewing, first of all, you should prepare your machine. Take a sufficient amount of thread in your spool. You can take the thread (embroidery thread or normal) which your device supports.
Do other activities similar to make your machine ready.
Take the template and other materials.
To perform embroidery takes all crucial materials. You should confirm that all of the enlisted elements are present. Then you can start your work. Never forget to take a template.
Place the template in the right place.
Place the template over the clothes. Sometimes it is considered as thebackbone of embroidery. Please place it in that place where you want to make designs. After setting the strategy, pin it up.
Pinning will help you to place the design in the proper place. There should be enough space between the edges of the design and the pin.
Zigzag stitch
Zigzag stitch gives a professional look to your design. Here the calculation of the number and size of the thread is necessary. It will ensure no persistence of lines outside the border.
However, you can use simple runningembroidery stitches here.
Proper movement of the stitch
Move the stitch in the proper way which you want. Don't try to pull the thread too much. Move stitch in a traverse way within the area. Before the end of the stitch, start another one or try to apply the backstitch of embroidery. Embroidery hope is helpful to hold the fiber.
Wrapping up of the stitch
The wrapping of the end part of the thread is essential. It can create problems for the overall look of your design. You can make a double knot with a standard cable between two adjacent ends of the line.
Solving of angle related issues
It's a significant problem for freshers. Slowly and carefully stitch the angular area. To make it easier, you can use a smooth, curved stick. Set it matching with the angular size and stitch. In this way, you can solve the issue.
Removal of unnecessary materials
After completing the design, you should remove unnecessary things. These may be pins, templates, paper, and other helping hands of embroidery. The line of permanent marker should not remain visible from the outside.
Accessories
You can keep some optional things for this. Among them, the free-motion foot option is on the top list. It will make your project easier. But try to select the exact size. The larger size may face problems to make the curve.
How to make hand embroidery
Hand embroidery is quite familiar from ancient times. For many purposes, it is being used. To use the design, it's not a fact either he is poor or rich. Even people of different countries, areas, and regions use it.
Sometimes they use it as a formality, sometimes as tradition or culture. In most cultural cases, hand embroidery is their primary option. There are several uses and benefits of hand embroidery. Some of these are
Valid for legal purposes.
There is no requirement for an embroidery machine.
Cost-effective and friendly to the environment.
It helps a person to focus on specific things.
In World War, Australia, New Zealand, and Britain's shoulders were encouraged to practice hand embroidery, which helps them for retaliation.
It has more variation than machine embroidery.
It also increases one's patience level.
To decrease blood pressure, it acts as a medication.
Aid a person to express his/her inherited talents.
Make a source to earn money. So the housewife can perform it at part-time work.
People need not face those problems related to the machine.
Herewith a short investment people can make a good profit.
Machine embroidery Vs. hand embroidery
We know the merits of hand embroidery from the above. If we compare it with machine embroidery, we will find some points. Theembroidery machine design is not bad. But it's not too spiritual like the hand one.
The cost is higher compared to the hand embroidery. Here not only embroidery ideas but also machines using knowledge needed. The extra physical and mental benefits are not present here.
It can work faster than the handy one. Even at present, embroidery machine computers are also available. But the problem is in some designs or objects; it is not applicable.
How to applique without an embroidery machine:
The process is straightforward and more effortless. For this case, some instruments are also required. The requirements and overall strategy are given below.
Requirements
Clothes (where you want to add applique)
Fabric
Sewable Heat-N Bond Lite Iron-on Adhesive
Applique pattern (which you prefer)
Thread
Sewing machine
Scissors etc
Procedure make applique
First of all, collect the requirements which you need. If all things are ready, you can start your job.
Take the Heat-N Bond Lite, which is sewable (because other types are also available in the market).
Iron the adhesive side of it. It must be on the wrong side of the fabric.
If your pattern is not cut out, then you must cut it out. Tap the mark and place it backward on the Heat-N Bond Lite. If you put it forward, it will turn backside after finishing the work. So do it in the right way.
Give up the applique process. Then turn it over. You will find the Lite in the exact position.
Remove the backside paper of the fabric. From the adhesive materials, you will find a sheen in the fabric. That will indicate the place of the applique.
Set the applique in the proper place and iron it. You should maintain an adequate heat level here.
To make your work easier, you can remove the bottom part of the machine. It will be helpful for you for the overall working process.
Now you should stitch around the shape of the applique. Do it slowly and smoothly. If you need to take turns, stop the stitch and take the turn.
Taking turns may be difficult for the fresher. If you are a beginner, practice the turning process before doing this work. Perform it carefully.
Finally, you will find your clothes according to your wanted design. In this way, you can perform applique without an embroidery machine.
Frequently asked questions.
Q1. Can you embroider without a hoop?
Answer- Yeah! You can. You can do embroidery works without using the hoop. The hoop helps to maintain the fabric from clamping or get stretching. If you aren't able to use the ring, you can also embroider your fabric. In this case, you will need to give attention to your material from getting any stretching or folding out, or distorting.
Q2. Why embroider without a hoop?
Answer- Embroidery hoops are only to stabilize your fabric when you are sewing it. But some sewers do recommend it because it can cause trouble also in sewing. A hoop frame can crease or damage your fabric. So, it is not mandatory to use hoops in embroidery.
Q3. How to make embroidered patches with sewing machines?
Answer- You can make embroidery patches with a sewing machine. You need to finish all the overwork, and then you can thread the patches through the sewing needle use.
Q4. How do you embroider without a machine?
Answer- There are a lot of alternative options that you can use to embroider. So, it's not necessary to always use an embroidery machine. You can also do some hand embroidery works or can do embroidery with a sewing machine. You can also use free-motion foot options for embroidery.
Q5. Can you embroider with a regular sewing machine?
Answer- Yes, why not! You definitely can embroider with a regular sewing machine. It would help if you had a sewing machine with different zigzag functions. For this, you can also follow a couple of embroidery tutorials on social media.
Q6. Can you embroider without embroidery thread?
Answer– Sure you can! For this, you need to use regular thread for embroidery. There you might have some difficulties. Because typically, cables are pretty thick to use on embroidery stitches.
Q7. Can you embroider by hand?
Answer- Of course you can. Before, people used to do hand embroidery works. Embroidery things have started from handy and crafty creations. So, there was no doubt that you cannot embroider by hand.
Conclusion:
Nothing is impossible in this creative world. We need to be more ambitious in our works. Embroidery is that kind of work. It not only represents our culture but also satisfies our passion. So, it doesn't matter how we do it. How to Embroider without an Embroidery Machine Is not a big deal now. As our creative mind can fix anything, we can do this work also. There are several alternatives to embroidery without any machine. We need to learn those methods and try our best to work more beautifully with them.
Refarences:
https://en.wikipedia.org/wiki/Embroidery_hoop