After a lifetime of sewing, I know one thing: books are an important part of sewing. Few things can replace the feeling of reading about a new technique for the first time, or looking up an answer to your question without having to find it through trial and error. And machine embroidery books are no exception! Especially because in this digital age, the internet is so easy that you can find tutorials for practically anything — including embellishing with machine embroidery!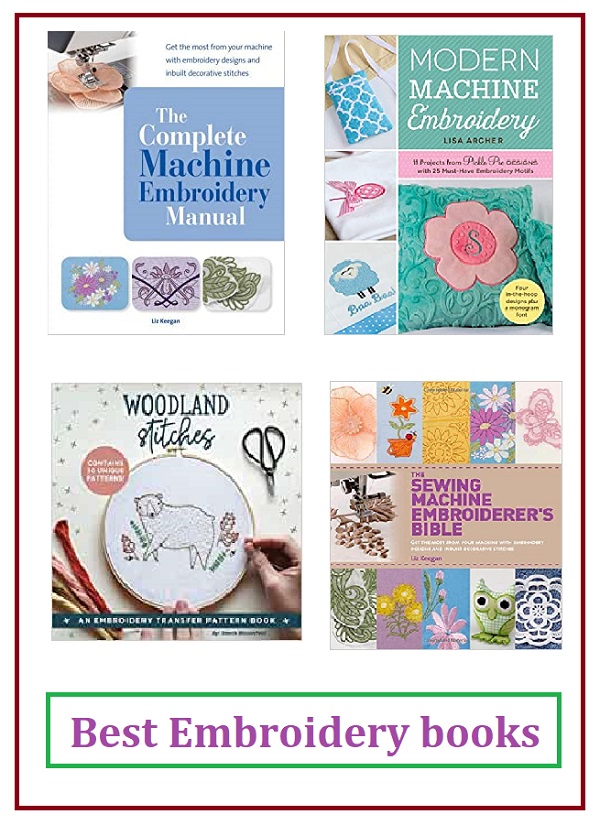 So we put together a list of our favourite machine embroidery books to help beginners get started with their stitching.
Here the list of best machine embroidery books for beginners:
Review Of Best Machine Embroidery Books For Beginners:
The Sewing Machine Embroiderer's Bible is aimed at people looking for a way to make machine embroidery accessible to all levels of sewers. It takes a straightforward approach to machine embroidery, making it easy for any level of user to understand.
It starts with an introduction on choosing your machinery and getting the most out of your stitches — from automatic needle threading to setting up your hoop and creating custom designs.
It helps readers get the most out of their sewing machine's embroidery capabilities and provides guidance for making use of the built-in stitches that they might otherwise ignore. It also explains how to get free designs off the internet onto your computer or tablet.
Embroidering with a sewing machine can be intimidating. You want to take the plunge and start embroidering, but you're not sure where to begin. There are so many different techniques out there that it's hard to know which one is right for you.
This book was created specifically for beginners who want an easy-to-follow guide on how to get started making their own embroidered items using a sewing machine. It'll walk you through everything from setting up your sewing machine, choosing the right thread type and fabric, all the way through designing your very first project!
If you are new to embroidery, you'll probably be looking for more than just the basic steps and techniques. The authors of Machine Embroidery: Techniques and Projects provide a solid foundation in machine embroidery, taking readers stepwise towards more advanced levels of machine embroidery with plenty of helpful illustrations and diagrams to help guide your progress.
In addition to the basic techniques, there are detailed chapters on different types of stitches (cables, cross stitch, buttonholes etc)
Machine embroidery is a lot of fun, but it can be hard to get started. Once you've got your machine and thread sorted out, there's all sorts of other things to learn before you can start creating beautiful designs – stabilizing fabric, transferring designs from the computer onto the fabric…and then what? How do I use these stitches creatively? Which ones should I use for which projects? And how do I make my own custom stitch patterns if they're not available as built-in options on my machine?
This book will answer all those questions and more! It covers everything from choosing an embroidery design or ready-made pattern that fits your needs (or making one yourself), transferring it onto the fabric using either a hoop or sewing frame, setting up your machine for best results with each type of design format (DST/PES/JEF etc.), stabilizing fabrics so they don't stretch out while in the sewing.
The Complete Machine Embroidery Manual is a great book for someone who has already mastered the basics of embroidery and is looking to progress their skills.
It covers most of the advanced techniques and offers some great tips and advice. It does take a bit more of an in-depth approach to machine embroidery, so it isn't the right choice for total beginners, but if you are set on mastering embroidery, this book provides excellent guidance.
With so many great alternatives to traditional embroidery, machine embroidery has become increasingly popular in recent years. However, for those who are new to it, the subject can be quite intimidating. Modern Machine Embroidery: 11 Projects from Pickle Pie Designs with 25 Must-Have Embroidery Motifs provides everything you need to know about modern machine embroidery — from selecting the right equipment and materials, through instructions for each project.
There are also loads of helpful hints and tips, as well as clear diagrams for each project. Modern Machine Embroidery covers everything a beginner could need to get started with machine embroidery — from choosing the right style of machine including the height of the hoop, to choosing a base fabric to start your embroidery piece.
With expert advice from author Lisa Archer on everything from choosing fabric and thread colors to creating interesting stitches, Modern Machine Embroidery is a must have resource for any sewer or crafter who wants their work to stand out!
Machine Embroidery in 6 Easy Lessons is a great short guide for beginners. By using this practical guidebook and the 4 essential tools from Eileen Roche, you'll be able to avoid the pitfalls and common mistakes that can ruin an embroidery project. And even if you're just learning how to use your sewing machine for embroidery projects, there are plenty of useful tips here too!
It is particularly good for absolute beginners — it covers all of the basics, from choosing your machine to choosing accessories and fabrics. It also details what types of projects you can embroider with machine; tricks and tips to get the most from your hoops and designs; and how to quickly choose the perfect design for your project.
This book makes a great gift because it is easy to access without having to read a lengthy book. And even if you are not planning on starting embroidery right now, this little guide will keep you inspired!
This book breaks down embroidery into easy-to-understand, bite sized pieces that will help you master the craft in no time. No matter your experience level or skill set, this book is a must have for anyone interested in learning how to create beautiful embroidered projects!
Nancy Zieman's Machine Embroidery with Confidence explains everything from start to finish so that even beginners will be able to create amazing designs using their home machine. The book includes over 100 full color photos showing techniques step by step, as well as tips for creating fun and interesting ideas of your own!
The book includes projects to help you progress as an embroiderer, from beginner to advanced levels. It also includes a handy guide to show you how much thread is needed for each stitch type — the authors also provide tips on choosing the best thread for your project.
Embroidery: A Step-by-Step Guide to More than 200 Stitches is a great guide for beginners who are looking to learn how to embroider.
Each chapter is filled with clear step-by-step guidelines and illustrations for each stitch. There are also a variety of projects in the book that will help you learn how to create everything from flowers, animals and borders to greeting cards and even place mats.
Learn 200 different embroidery stitches in this easy-to-follow visual guide! This book will show you exactly what supplies you'll need and how to use them every step of the way. With clear instructions on which fabrics work best with different techniques, and learning these stitches easy for anyone who wants a new hobby or skill set they can master at home!
If you want to learn how to do freestyle machine embroidery, there are lots of resources out there, but they all assume that you know what you're doing. You need a guidebook that explains the basics without being condescending or too complicated.
Freestyle Machine Embroidery Paperback is just the book for this job! It's written by an expert in the field who knows exactly how beginners feel when they try to learn new skills and techniques. This book will get rid of your confusion and help you build your confidence with each step along the way.
Freestyle Machine Embroidery is a great book that will help you learn about embroidery, with clear step-by-step instructions and fabulous projects. You'll learn all about thread tension adjustments, stitch options (including buttonhole stitches), using stabilizers and fabrics that work best for freestyle machine embroidery, troubleshooting common problems, transferring files from design software onto your computer's hard drive so they can be loaded onto the sewing machine…and much more!
Stitchcraft: An Embroidery Book of Simple Stitches and Peculiar Patterns will help you learn how to use the most basic embroidery stitches, as well as unique designs that you might not have thought of.
You will also learn how to make over three dozen different embroidery patterns, and discover more than 200 ways to combine various embroidery techniques.
Woodland Stitches: An Embroidery Transfer Pattern Book With Inspirational Quotes and Woodland Designs is filled with inspirational quotes, interesting facts and over 30 embroidery transfer patterns.
You will also find information on how to care for your embroidery and tips for how to transfer the patterns onto fabric, as well as stitch instructions.
Why Should You Buy Machine Embroidery Books?
Machine embroidered books are great for learning new techniques, because they cover in-depth topics which would be hard to find elsewhere.
Machine embroidery books are usually filled with beautiful pictures of designs, wonderful color photos showing all the intricate detail on a design, and easy-to-follow step-by-step instructions for each pattern. The author often includes tips on how she achieved her effect to help make your finished project nicer.
Conclusion:
In this post, we have discussed the importance of buying embroidery books and the benefits that you can get from these books. I also listed out some wonderful embroidery books for you to choose from. Now that you've read this article, you know what to look for in an embroidery book and which ones are worth investing on.
You can also read: